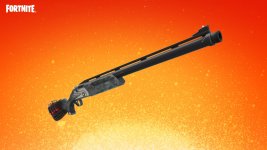 As if there weren't enough shotguns in
Fortnite Chapter 3 Season 2
already, the battle royale has added another in the form of the
Ranger Shotgun.
The weapon may have arrived without any teases, but it doesn't make it any less valuable. It's simply a single barrel with sniper rifle power. This is where you'll find the newest piece of riches
.
The Ranger Shotgun can be found in a variety of places, including chests and Supply Drops, on the ground, and as a possible drop from Loot Sharks, therefore you won't be able to buy it right away. Despite the fact that the weapon's magazine only stores one bullet, the weapon's damage rates more than make up for it. A Ranger of Common rarity, for example, may deal 117 player damage, with each subsequent rarity adding another 6 to 7 damage. Those who are lucky enough to locate an Epic-rarity can do 136 damage per shot, while the Legendary Ranger can deal a whopping 142 damage per shot.
Players can also expect highly devastating headshots, with damage rates ranging from 146 to 178. The weapon also has a wider range than any other shotgun in Chapter 3 Season 2, allowing you to take out adversaries from a distance of several meters. To summarize, the
Ranger Shotgun
may not look to be particularly lethal, yet it could be the season's most powerful acquisition yet.
>>
CLICK HERE TO WATCH FORTNITE RANGER SHORTGUN TUTORIAL